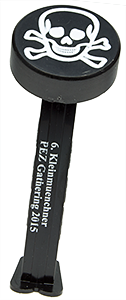 Kleinmünchen 2015:
Ich lade Euch ein, dass wir uns am
5.Juni 2015 zu einem netten Treffen im Klosterhof (Linz, Landstraße 30) ab 11:00 einfinden.
Nach einem Mittagessen können wir den Linzer Höhenrausch besuchen.
Bitte um Anmeldung per
Mail
bis spätestens 22.5.2015
The next big gathering will take place in 2016.
But I kindly invite you to visit the
VIP - Vienna International PEZ Gathering
in Vienna, Austria in Aug 2015.